When temperatures drop, it's important to provide your employees with the right clothing so they can stay warm and comfortable while on the job. Choosing the right winter workwear for your employees can make a big difference in their productivity and morale and the best way how to Select the Best Winter Workwear for Your Employees. Let's take a look at some important factors to consider when selecting winter workwear.
Functionality & Safety Considerations
When selecting winter workwear for your employees, you should always prioritise functionality and safety first. The clothing should be designed to keep them safe and warm in cold weather conditions. For example, if you have an outdoor workforce, such as construction workers, you may want to opt for items like insulated coveralls or jackets that are designed to protect against wind, rain, and other elements. It's also important to ensure that any reflective tape used on the clothing is visible from all angles so that it does not pose a safety hazard in low-light conditions.
Durability & Quality of Materials
Another key factor when selecting winter workwear is durability and quality of materials. You want clothing that will last through multiple seasons of wear without tearing or fading easily. Look for items made from durable fabrics such as polyester or nylon which are more resistant to weathering,
Budgetary Considerations
Finally, make sure that you take into account budgetary considerations when selecting winter workwear for your employees. It's important to find items that offer good value without sacrificing quality or safety features—but this doesn't mean you have to spend a fortune on each piece of workwear.
We have a great selection of Coats and Jackets for you to choose from here
https://www.industrialworkwear.com/procat/coats-and-jackets/
Another very important area of winter Workwear and again how to Select the Best Winter Workwear for Your Employees clothing is Hi Visibility (Hi Vis) which is a must for any workplace that involves hazardous activities or conditions. It is designed to keep workers safe and visible, especially in low-light environments. But it also has other benefits that are often overlooked by employers.
Visual Safety
The primary purpose of Hi Vis clothing is to ensure visual safety—for workers, as well as their colleagues and any visitors to the workplace. High visibility clothing can help prevent accidents and injuries by making sure everyone can be seen in potentially dangerous situations or environments. This is particularly important in workplaces with moving vehicles or machinery, crowded workspaces, or outdoor environments with limited light levels.
Identification and Teamwork
Hi Vis workwear clothing also helps identify workers who belong onsite and those who don't. It's an easy way to differentiate between employees and visitors, and it makes it easier for everyone to know who they can approach if they need help or assistance. Additionally, having each team wear a different colour of Hi Vis clothing allows them to easily distinguish one team from another, which promotes better teamwork and collaboration within the organisation.
Durability
High visibility clothing is made from durable materials that are designed to last through many washes without fading or shrinking. This ensures that your Hi Vis clothing will not only last longer but also maintain its original brightness for a long time ensuring that all personnel remain visible at all times, even after many washes.
HSE UK are a great resource to understand more about Hi Vis clothing regulations, please see this link for more
information
https://www.hse.gov.uk/workplacetransport/factsheets/clothing.htm
In conclusion: High visibility workwear plays an important role in keeping workplaces safe and ensuring that all personnel remain visible at all times—especially in hazardous situations or low-light environments. But beyond just providing visual safety, Hi Vis clothing also helps identify employees from visitors, promotes teamwork among teams wearing different coloured hi vis garments, and is made from durable materials designed to last through many washes without fading or shrinking over time. All of these factors make high visibility workwear an essential part of any workplace safety program!
You can find the UK's most comprehensive range of Hi Vis garments online from the UK's best brands, just follow the link
https://www.industrialworkwear.com/pt/high-visibility/
Why Thermal Underwear Should Be Standard Issue.
Keeping your employees comfortable is essential to peak performance in the workplace. As temperatures drop during winter months, it is important to consider issues such as employee comfort and productivity. By providing workers with thermal underwear, employers can make sure their employees stay warm and focused without having to break the bank on costly heating bills. Let's take a closer look at why thermal underwear is a smart choice for any employee.
The Benefits of Thermal Underwear
Thermal underwear provides workers with a layer of insulation that will keep them warm in cold temperatures without adding bulk or weight. This allows employees to move freely without feeling restricted by bulky layers of clothing, making them more productive throughout the day. The breathable fabric also helps regulate body temperature, so workers don't have to worry about overheating while they are working on projects. Plus, thermal underwear comes in a variety of sizes and styles, so all employees can find something that fits them properly. Thermal underwear is also affordable, which makes it an attractive option for budget-conscious employers who want to keep their workers comfortable during colder months without breaking the bank on heating costs. Since thermal underwear is designed to be worn underneath other work clothing, it provides extra warmth without looking overly bulky or out of place in most professional settings. Finally, since thermal underwear is machine washable and easy to care for, employers won't have to worry about spending extra money on industrial cleaning costs or replacements over time.
Comfort and Safety Considerations
Staying warm during colder months isn't just about comfort; it's also important for employee safety as well. Making sure your workforce is adequately insulated against the elements can help reduce risk of unintentional injury. And since thermal underwear comes in lightweight and breathable fabrics like 50% Polyester 50% Cotton, you can rest assured that your workers will feel comfortable while receiving adequate protection from the elements as well!
WE have all the solutions you require for Thermal Underwear from all the best UK brands here
https://www.industrialworkwear.com/procat/thermals-underwear/
How to Select the Best Winter Workwear for Your Employees –
Choosing the right winter workwear for your employees is essential for keeping them safe and comfortable in cold weather conditions while on the job. When shopping around for items of winter workwear, always prioritise functionality & safety features first, followed by durability & quality of materials and finally budgetary considerations—this way you can be sure that you're getting the best value possible without sacrificing quality or safety features! With these tips in mind, finding high-quality winter workwear should be easy!
If you would like further advice on any aspect of cold weather Workwear give our friendly team a call today on 01207 509717 or fill in the form below for immediate attention
Request a quote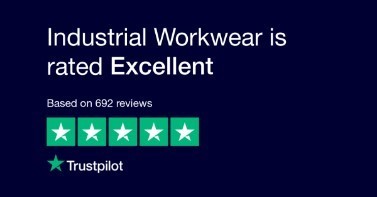 5 Star Trustpilot rating – Click above to see what our customers are saying about us.